Best Fishing in Oregon! Odell Lake Lodge & Resort.
Fishing and Odell Lake Lodge & Resort go hand in hand!  Home to record-holding Mackinaw (lake trout) and the Mackinaw Derby Odell Lake Lodge & Resort provides the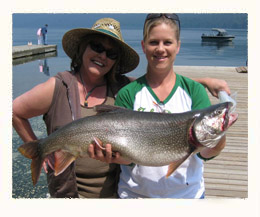 best fishing in Oregon and one of the best fishing spots in the Pacific Northwest.  Odell Lake holds the state record for the largest Mackinaw shattering the 40lb. threshold in 1984.  But that's not all Odell Lake is jam-packed with many other species of fish such as Kokanee (landlocked salmon) and rainbow trout.
Odell Lake offers over 3,300 acres of crystal clear water, which provides un-paralleled fishing conditions.  Odell Lake Lodge & Resort provides everything from fishing gear, Boat rentals.  Our marina provides the slips, launch, and boat rentals, even fuel.  And if you are looking for the best fishing spots on the lake we offer top-notch guided fishing adventures.
After a long day of fishing adventures join us back at the resort for a home-cooked meal in our restaurant, and in the summers we even offer live music and BBQ events.  Whether you are looking to stay a week or just a day we promise you your trip will be one to remember, so reserve your cabin, room, or camping site today, and enjoy your truly phenomenal fishing adventure.
Odell Lake Lodge & Resort also offers guided fishing trips, (click for more information!)